Acts 12:24-13:5, 13-14
24 But the word of God increased and multiplied. 25 And Barnabas and Saul returned from Jerusalem when they had completed their service, bringing with them John, whose other name was Mark.
1 Now there were in the church at Antioch prophets and teachers, Barnabas, Simeon who was called Niger, Lucius of Cyrene, Manaen a lifelong friend of Herod the tetrarch, and Saul.
2 While they were worshiping the Lord and fasting, the Holy Spirit said, "Set apart for me Barnabas and Saul for the work to which I have called them." 3 Then after fasting and praying they laid their hands on them and sent them off.
4 So, being sent out by the Holy Spirit, they went down to Seleucia, and from there they sailed to Cyprus. 5 When they arrived at Salamis, they proclaimed the word of God in the synagogues of the Jews. And they had John to assist them.
13 Now Paul and his companions set sail from Paphos and came to Perga in Pamphylia. And John left them and returned to Jerusalem, 14 but they went on from Perga and came to Antioch in Pisidia. And on the Sabbath day they went into the synagogue and sat down.
Repeat yourself enough to walk away from anything that no longer serves YOU, grows YOU or makes You happy.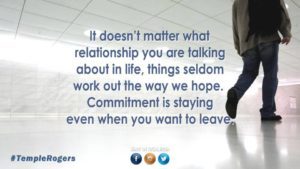 Acts 15:36-41
36 Some time later Paul said to Barnabas, "Let us go back and visit the believers in all the towns where we preached the word of the Lord and see how they are doing." 37 Barnabas wanted to take John, also called Mark, with them,
38 but Paul did not think it wise to take him, because he had deserted them in Pamphylia and had not continued with them in the work.
39 They had such a sharp disagreement that they parted company. Barnabas took Mark and sailed for Cyprus, 40 but Paul chose Silas and left, commended by the believers to     the grace of the Lord. 41 He went through Syria and Cilicia, strengthening the churches.
Comments
comments