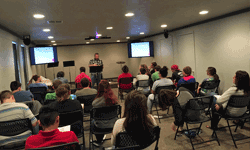 The Sunday School Classes offer a atmosphere that is relaxed and the messages are relevant to your daily life. Through meaningful Bible-study and incredible worship, our goal is to help you grow deeper in your relationship with God each and every week. Time: Sunday Mornings 9:45 am to 10:45 am
Our Sunday services offer powerful live worship and Biblical teaching that is relevant to every day life. Take a look through our message archives to get a feel for what a service is like. Each service lasts about an hour. Time: Sunday Mornings 10:45 am to 11:45 am,  Sunday Evenings 6 pm to 7 pm
Grow in our faith, share your God-given talents, and make music by participating in TSM Youth Band. This is a great way to have fun, make new friends, learn, create, and collaborate! If you want to sing, there is no experience required and all voices are welcome. If you play an instrument, you'll need to be able to read music and play at a basic level.
Along with other Bible study and Group opportunities for Temple Baptist Adults, our exciting Wednesday program called Discovery Groups is held from June to August. We want you to grow in your relationship with God by growing in your relationships with others through Discovery Groups. Time: June – August
Over and over again, the writers of the New Testament give us insight into how we need to coexist with 'one another.' These 'one another' statements are scattered throughout Scripture. Each Wednesday evening, we are considering one of these 'one another' statements in its context to see how we might apply these truths to our daily lives. Time: Wednesday Evenings September – May from 6:30 pm to 7:30 pm
Batter up! Ready for the Temple Baptist Church Softball League for the 2016 Spring season? We are inviting you to join us for fun, fitness, and fellowship!
The Drama events at Temple Baptist covers many different areas which are available to those wanting to use their talents in this special ministry.  The following are designed to give support to seasonal and ongoing ministries of the church.
Temple Baptist Men is committed to helping men become the husband their wife wants them to be, the father their children need them to be, and man that God created them to be. Check out our Band of Brothers page for more information on regular and special men's events.
Temple Baptist Women exists to walk alongside women of all ages as they go from where they are now to where God wants them to be: fully devoted followers of Christ. Check out our Temple Baptist Women's page for more information on regular and special women's events.
Temple Baptist Senior Adults meet the first Thursday of each month at 11AM in the Fellowship Hall Building. The monthly luncheon is a great time to meet other seniors, enjoy a pot-luck lunch together and listen to a Guest Speaker. We also offer various off campus events for fellowship with other Seniors.
Ozarks Baptist Encampment (OBE) is a cooperative ministry of the BMA of the Ozarks.  Each year several hundred people of all ages meet at Grand Lake Baptist Assembly for a week of worship, fellowship, Bible study (& quiz), and prayer.  Our goal is to encourage people to grow in their faith in God. See for yourself how church camp can transform your life?  Time: July 18-22, 2016
Looking to watch a great movie with your friends and family? No need
to go to a crowded theater. You are invited to join us in our parking lot at Temple Baptist Church as we watch a great, FREE family movie under the stars. All you need to bring is a lawn chair and/or a blanket. There is no cost for the movie. It is FREE. Our Student Ministry will have a concession stand with a variety of items at $1 or less.