We're so glad you're considering joining us for worship and study! You'll find a list of commonly asked questions below. Please don't hesitate to send us a message or give us a call at (479) 636-1064 to let us know you're coming!
How do I get there?
Temple Baptist is located in Rogers at the corner of New Hope and Dixieland. You can find detailed schedule information and directions here.
Where should I park?
From South Dixieland Road there are 2 entrances and an additional one from New Hope Road to the church parking lot. Please refer to the blue arrows on site overview image for the entrances. From either of these, our parking lot is accessible. If it is raining, please feel free to use the carport over the front entrance to church for drop-offs (front entrance has orange arrow).
What should I wear?
Temple Baptist has a "come as you are" atmosphere. You will see some dressed up; some dressed casual. We have no expectations for attire.
Where do my kids go?
Our church offers Sunday School classes for babies, preschoolers, children, Middle School, and High School as well as a nursery for ages birth to 2 years old. Once you arrive you will be welcomed in the main entrance by the greeters as well; they will provide you with classroom directions and show you where to drop the kids off. During worship services, we offer children's church for ages 2 to 5th grade which is located in the Education building. Of course, you're welcome to bring your kids to worship services with you (but they'll probably enjoy our age-level ministries much more!).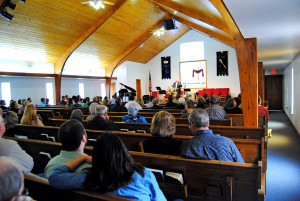 What is a Sunday service like?
Our Sunday services offer inspiring and uplifting blended worship and Biblical teaching that is relevant to every day life. Take a look through our sermon archives to get a feel for what a service is like. The Sunday service lasts about an hour.
Be sure to say "Hello!"
When you visit, don't forget to stop by in the foyer to introduce yourself. We'd love to meet you and your family, and answer any questions you may have. We're so glad you decided to visit Temple Baptist!
Do you have questions or comments after your first visit with us? Please let us know!