Life Is Hard, but God's Word Offers Hope
Do you feel like the stress of life has you on edge?  Is the fear of the unknown overwhelming you?  We don't have it all figured out but we know the One who does.  We want you to come as you are and hear the Truth of how we don't have to be afraid anymore.  God gives us the power to overcome!
Expect a relaxed atmosphere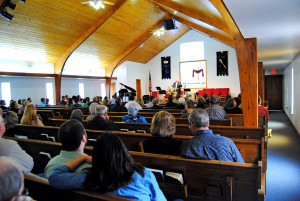 Temple Baptist Church welcomes all. Come in whatever makes you comfortable at church. Friendly faces welcome you at the door and warmly assist you with any need or question. Stop by the lobby and a knowledgeable greeter will be happy to show you around.
Just make yourself at home.
Questions or Comments
Do you have questions or comments after your first visit with us? Please let us know!
Become part of our online community