Learn how to become debt-free through Financial Peace University, Dave's 9-week course that will help you take control of your money.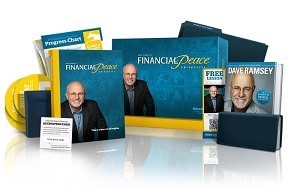 Member Workbook
Bring this to class each week. This workbook is packed with good stuff and will soon become a close companion.
Envelope System
This is Dave's easy-to-use cash management system. Put money in. Take money out. Stay on budget!
Complete Guide to Money
This book will track along with your workbook. You'll read a little each week and learn a lot.
Audio CDs and Case
Listen to Dave's teaching on the go.

Budget Forms Folder
On paper, on purpose. This folder will give you a place to file away your forms.
Progress Poster
Post this on your fridge or closet door as a fun reminder of where you are and where you need to go!
Access to FPU Central
Sign in to FPU Central using your activation code to access powerful tools and resources plus two bonus lessons!
Comments
comments