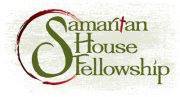 Samaritan House Fellowship is a diverse church family uniquely placed and partnered with the Samaritan Community Center. We desire to show the love of God to anyone, right where they are in life, so that they may experience and grow in the grace, hope, and good news found only in Jesus Christ.  We seek to provide an on-going relationship in God's family where people know that they are accepted and loved by God, just as they are. We encourage them to grow in following Christ, and in turn, show His love to their family and neighbors.  We are also unique in that we are not only a church in two locations (Rogers and Springdale), but we also see ourselves as a mission.  While we are made up of people of all walks of life, we are also a place where many come to serve this church family as their outreach.
We would love for you to get involved quarterly, monthly, or weekly.  You can come serve a meal and experience our touchingly transparent worship service, or serve in any area of our Family Ministry, either individually or with your Bible Study or Community Group.  We can always use people to help with our children (birth-12th grade), serve in the sound booth, play guitar, lead worship or come share a meal with a hurting soul to listen to and pray for them.
SHF Rogers: Sunday 9:30 a.m. Breakfast, 10:30 a.m. Worship Service
SHF Springdale: Sunday 5:00 p.m. Dinner, 5:30 p.m. Worship Service
Contact Mari Peters at 479.986.8378 or mpeters@samhf.org.