It has occurred to me recently that I may be a slow learner–spiritually, that is. I wrestled with a particular issue several years ago and thought that I had achieved some measure of victory, only to realize more recently that perhaps I had not.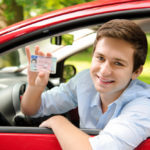 You see, I'm the mother of boys. Little boys grow up to be teenage drivers. I know daughters can have wrecks, too. However, we all know what teenage boys can do to our car insurance rates. They just tend to be a little less cautious and to take more risks. Watching my sons drive out of the driveway alone for the very first time was so difficult. I knew intellectually that I was not in control, and that I had to rely on God to keep them safe. However, my heart did not always listen.
Over time, I became more comfortable with the whole driving thing, although there was always an underlying feeling of anxiety. Then came the day that my youngest son wanted to go out of town. In fact, his destination was several hours away. My anxiety skyrocketed again. I suddenly realized that my level of comfort was based on his distance from home. As long as he was nearby, I felt somewhat in control. (I never said my emotions were logical.)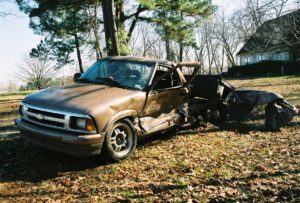 Then, in November 2004, on the Sunday after Thanksgiving, my fear was realized. My youngest son was involved in a wreck that could have taken his life. The wreck did not occur six hours away, or one hour away, or even down the street. It happened in my driveway. As he was pulling into the driveway after church that night, he was hit in the driver's door by a drunk driver going about 60 m.p.h.
He should have been killed or at least severely injured, but he wasn't. By the grace of God, he walked away. Although I did not hear an audible voice, I can assure you that I heard the Lord speak to me. He very clearly told me that whether my child was far away or in my own yard, He was in control and didn't really need my help. I got the message and learned my lesson–or so I thought.
Now, let's fast-forward a few years. That youngest son is now married with a family. When he and his wife made the first trip out of town with their first baby, I was dismayed to find myself experiencing the same type of anxiety that I thought I had dealt with years ago! How could this be? How could I experience such a lack of faith after the Lord had so clearly intervened to protect my son? I even carried a picture of his crumpled truck in my billfold so that I could visibly remind myself of this great thing He had done.
"Remember the wondrous works that he has done, his miracles, and the judgments he uttered." (Psalm 105:5) Remember…maybe that's the key. Life is busy, and it had been some time since I had intentionally reflected on what God did for me and my family that day back in 2005. Maybe that's a new lesson I need to learn. Throughout the Scriptures we are told to reflect on God's goodness and what He has done on our behalf. Perhaps without that deliberate r
efreshing of the memory, we all have a tendency to lose that vivid recollection of lessons learned–a sort of spiritual amnesia.
I would prefer that the Lord not have to teach me this lesson again, so I plan to be intentional in my efforts to regularly reflect on what the He has done for me in this and many other areas of my life. How can I truly be thankful for His blessings if I don't consciously remember what He has done for me? So I will remember and be thankful–especially for those precious grandchildren, whom He guards and protects.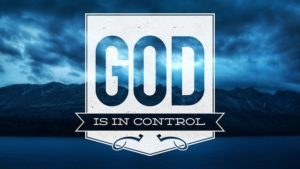 Comments
comments