A couple of years back, I went mountain biking with my brother and two of our friends in a remote part of Arkansas.  The Syllamo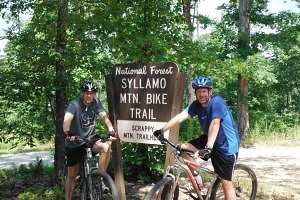 Mountain Bike Trail is not for the faint of heart (or a group of guys all around the age of 40) which we soon figured out.  We took off on our trek and I immediately crashed.  Not a great start, but I was determined to get up and keep going.  We went a little bit further and one of us had a flat.  Things were not looking good for this quartet of riders.  However, none of us wanted to quit.  So, we kept pedaling.  An hour later, we figured out something else problematic.  We did not bring enough water for the amount of sweating that was going on.  We would have given anything to find a sign that said, "Water."  It was hot and quickly becoming miserable.  However, God knows what we need when we need it.  He provided a woman with an ice chest who was about to head back into town.  She gave us water, ice, and some Gatorade.  I don't remember the lady's name, but it must have been Angel.  God's provision in His timing always makes it sweeter.
The truth is that many of us would like a sign saying, "Water this way."  We want a clear picture and direction of what we are to do next.  The Bible tells us that…
11 For I know the plans I have for you, declares the Lord, plans for welfare[a]and not for evil, to give you a future and a hope. Jeremiah 29:11 (ESV)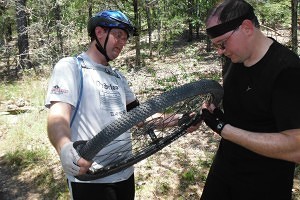 So we are left saying, "God, how about you put a sign up for me?  Point me in the exact direction that you want me to go."  I would have loved to have seen some clear indication of what direction that we needed to go to get some water.  Even a "Convenience Store in 10 miles" would have been some relief for our tired and thirsty riders out on Syllamo.  God works a little different than that.  He moves us to trust Him even when the path isn't clear.  When we do, He will bless in big ways.  That woman on the trail was our blessing.  She had life-giving water (I may be over dramatizing the scenario, but not much).  God has a blessing in store for you if you will trust Him to provide direction and help as the need arises.
 5 Trust in the Lord with all your heart,
    and do not lean on your own understanding.
6 In all your ways acknowledge him,
    and he will make straight your paths.  Proverbs 3:5-6 (ESV)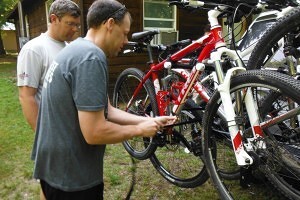 Even with our crazy bike ride, we had a great weekend full of adventure which including staying a stinky cabin and wondering if something out in the dark was going to get us while we were testing our bikes the night before the ride .  Looking back, I wouldn't trade it for anything.  I love the crazy adventures my brother has pulled me into over the past few years.  We have run the Oklahoma Warrior Dash, the Bentonville Half Marathon, and road an untold number of miles on our bikes together.
Trust God for direction and help.  He won't let you down and may even pull you into some crazy adventures along the way.
Comments
comments