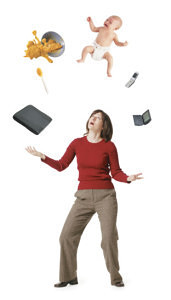 Laundry to do, dinner to cook, children to bathe, house is dirty, "I'm hungry", shopping to do, bills to pay, "my sister hit me", spend quality time with children, papers to grade, "my sister won't share with me", lessons to plan, sheets need washed, "MOMMY!"…. I am drowning. Trying to balance being a wife, mother, teacher, friend and do them all to the best of my ability is too much and I feel the water rushing over my head.   Another thing goes undone, another person upset about their needs not being met. I can't handle all this on my own!
All too often I let the things of this world consume me. I focus on what I am doing/not doing, and what other people are doing/not doing. I am a lot like Peter in these instances. In Matthew 14 we are told about a time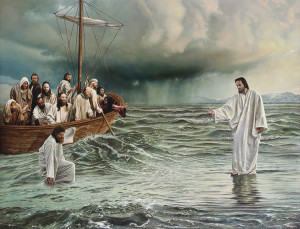 that the disciples are out on a boat at night. They had experienced a long day serving people, the wind was blowing against the boat, and they were uneasy. All of the sudden they see something out on the water, and it looks like a person… If I saw someone coming toward me on top of a dark sea it would seriously freak me out. Jesus sensed their fear and called out to them to not be afraid. Still a little unsure, Peter decided to be brave, and asked Jesus to bring him out on the water. Jesus called him out, and Peter crawled over the edge of the
boat. That takes a lot of trust, but then his doubts took over. He saw the wind and the waves; he knew it was not humanly possible for him to be doing this. Peter began to panic, and in his panic, he began to sink. The water came rushing up over him and he cried out "Lord, save me!" Jesus grabbed his hand, and pulled him up out of the water. Peter knew who Jesus was, he knew what Jesus had done, and could do. The man had just been walking on top of the water, but just seconds later he doubted what he knew was true. I feel like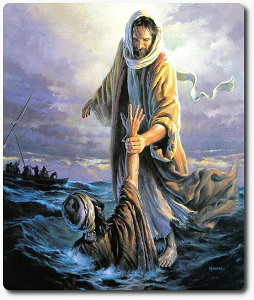 Peter so often. I take my eyes off the only One who can keep me afloat and moving forward. I look at everything going on around me and I don't know how to do it all. I can feel the water rush over my head and that familiar feeling of drowning. How many times have I cried out "Lord, save me", how many times has he reached out and pulled me up and out of the waves? Why don't I just keep my eyes planted firmly on Him? I am not able to handle this world and its troubles on my own. I do know who can handle it though, the only person who can get me through. If I keep my focus on Christ, He will be the one to handle it all.
Comments
comments