I have been a member of Temple Baptist Church since I was a little energetic squirt. Around the same time my family and I joined the church, Dan became the youth pastor which crazy to think we were starting that wild journey together, both in new places and new roles. My role of course was the bottom of the food chain and the end of all the jokes, but I took them and handed out a few punches along the way to those deserving and not so deserving.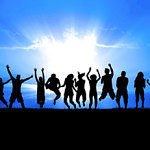 I was more mature than most of my classmates but still handled most situations with a sassy attitude and aggressiveness, which tended to get me into trouble. Years past, as the eldest girl in the youth group being a junior in high school I was handed responsibilities to be on the youth committee. Pumped is an understatement for the excitement that washed over me. I am a natural born leader, yet finding that fine line between bossy and a great leader was one I teetered on for many years, leaning to the bossy side more times than not.
I worked hard to fulfill my duties throughout the rest of my time in the youth group before moving off to college, yet I wasn't one to spend time with the young kids at the church considering the closest girl to my age was two years my junior. I have always been the type to hang out with the adults and stay under their feet. This was the time in my life when I realized I was stuck in the middle of a hard fought war for generations.
Being too young to do "adult things", but simultaneously being too old to enjoy "being a kid". I felt like I was in this imaginary bubble that no one could see but me. I felt this bubble closing in around me making me feel as if I didn't belong to either group, then I came across 1 Timothy 4:12
Don't let anyone look down on you because you are young, but set an example for the believers in speech, in conduct, in love, in faith and in purity.
Most people read this verse and say 'yeah kids can live out their faith just like adults can'. I never thought that any adult would look down on me because I was young, I just personally believed I couldn't find an area where I meshed well. After reading this verse, I knew it didn't matter, I wasn't coming to church to find a clique to jump into for an hour or so and head home. I was there to love and serve God, and he doesn't have an age requirement. So no matter where I am in life I can live for him, even if means I am stuck in the middle.
Comments
comments