Recently I m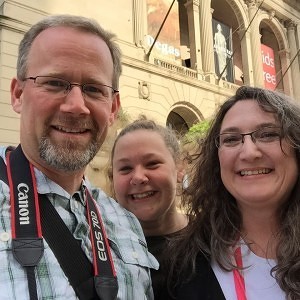 ade a visit to Chicago with my family.  It was a great trip.  While I'm not a "foodie," I was blown away by my first "Chicago Dog" and Italian Beef at Portillo's.  It was also my first exposure to "Chicago Style" pizza at Giordano's.  While there, we also took in the sights.  We saw the Art Institue of Chicago, the Shedd Aquarium, and the Museum of Science and Industry.  Those were all memorable, but nothing quite like the Willis Tower (formerly known as the Sears Tower).  At 108 stories and 1451 feet (according to Wikipedia), it is the tallest skyscraper in the United States.
Now for someone who has an issue with heights, I wasn't sure how well I was going to do.  As you ride up the elevator, they even remind you how high you are climbing as the monitor tells you that you are now higher than "……"  I slowly became a little more nervous as we reached towards the heavens.  Looking out the window up there was going to be something.  We exited the elevator and looked around.  I was fine with the windows, but I knew that this tower had a special feature.  This was the home of the SkyDeck.  It is essentially a plexiglass box that you can stand in and look down.  I knew that was going to be the challenge of the day.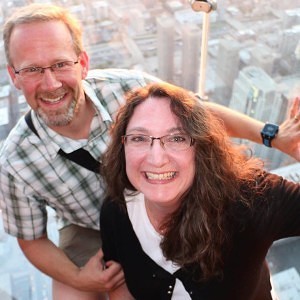 As my family and I stood in line for the view, I knew I had a couple of choices.  One, I could cower in a corner and miss the view of a lifetime.  Or two, I could take a step of faith and walk out into the box.  With my kids and wife watching, I took that big step out onto the clear plexiglass.  My daughter joined me and we got a cool picture looking down and seeing out feet.  My wife came out into the box and she had a flash of vertigo.  With God's help, I handled the situation and didn't miss out on an incredible experience.
Ultimately, the experience came down to a moment of faith.  I had to believe and know that the construction of this building was going to hold me.  I had the head knowledge that thousands of people had stepped out into that box and that there is no way that they would let us out there if anyone had concern about us plummeting to our deaths.  However, I didn't put my faith in those facts until I stepped out into the box.
God is calling us to step out in faith with Him.  We can know what he has done in the past and what he is doing, but until we move, we aren't really putting our faith in Him.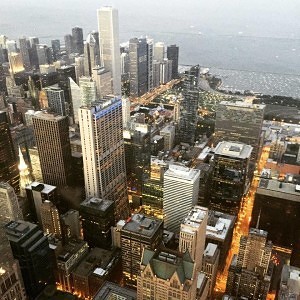 On July 19th, I made an announcement at Temple Church.  I shared with the congregation that it was time for me to step away from our student ministry.  Those that know my heart know that this wasn't an easy decision.  I love the students of Temple Church and have loved the nearly 8 years that I have had the opportunity to serve as their youth pastor.  However, God has directed me to take a step of faith.  And as a follower of Christ, I am supposed to follow Him.  Stepping out of the comfortble into the unknown is never an easy process.  I am one that likes to know what is going to happen.  And given the size of our church, I can't know exactly how God is going to work in this situation.  There is one thing that I can be sure of though.  When I step out in faith, He will hold me up.
Comments
comments