Now that I'm officially a "senior adult," I've decided that I'm in complete agreement with Bette Davis on at
least one point: "Getting old is not for sissies." It's not just a matter of grey hair or wrinkles–oh, that it were! The changes that ensue with age are pervasive, leaving no part of one's being unscathed. And to make the situation even more challenging, we live in a country that is absolutely obsessed with youthfulness. We are told that we need to look younger, act younger, and feel younger. We are constantly bombarded with this message through movies, television shows, commercials, magazines, etc. Growing old has become a condition that must be resisted at any cost.
As usual, the world's perspective is at complete odds with God's Word. Our society tends to devalue older adults and to minimize their ability to make meaningful contributions to the world. Scripture, instead, stresses the important role that "mature" men and women can play in the church, the home, and in society in general:
"Older women likewise are to be reverent in behavior, not slanderers or slaves to much wine. They are to teach what is good, and so train the young women to love their husbands and children, to be self-controlled, pure, working at home, kind, and submissive to their own husbands, that the word of God may not be reviled." (Titus 2:3 ESV)
"You shall stand up before the gray head and honor the face of an old man, and you shall fear your God: I am the Lord." (Lev. 19:32)
"So even to old age and gray hairs, O God, do not forsake me, until I proclaim your might to another generation, your power to all those to come." (Psalm 71: 18 ESV)
"They still bear fruit in old age;" (Psalm 92:14a ESV)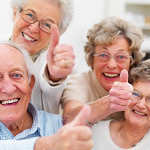 Based on God's Word, I have to believe that He can and will continue to use me up until the time I take my last breath and go to Glory to be with Him. So, even though the process of getting old may not ever be described as "fun," it is certainly more tolerable–perhaps, even enjoyable–when I remember that I still have value and worth in the eyes of my Lord, and that He has no plans to "put me out to pasture."
Despite the negative aspects of aging on which we tend to focus, there really are some great things about getting older, with the most obvious benefit being GRANDCHILDREN! I currently have four, and I love them more than they will ever know. Being a grandparent is even more wonderful than I was told it would be. And, it's even Scriptural! Proverbs 17:6a tells us that, "Grandchildren are the crown of the aged…" Amen to that!
I've come to realize, however, that one the greatest blessings of having lived more than a few years is the spiritual perspective gained through experiencing God in action in one's life. With each passing year, my "look-back period" to reflect on God's goodness to me just grows longer. The more years I have lived, the more opportunities I have had to see Him work in my life. I can reflect back on how He has answered prayers, forgiven sins and given me "beauty for ashes (Isa. 61:3 NKJV)." As a result, I have an ever-increasing faith in my sovereign God to handle anything that may come along–because I've seen Him do it so many times before!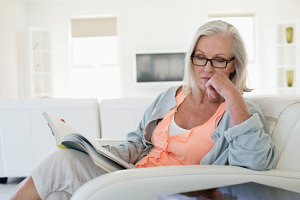 In fact, I've just recently experienced one of those "look-back" moments. About a week ago my youngest son, his wife and two sons (my two grandsons!) made a trip to visit friends in Dallas. As the date of their departure grew nearer, I realized that I was worrying about the possibility of something happening to one or all of them during the drive to and from Dallas. I immediately reflected back to more than ten years ago when my son was in high school and how I worried about him being injured in a car wreck. As long as he was driving locally, I didn't fret too much. However, the further his destination from home, the higher my anxiety level went. All that changed the Sunday after Thanksgiving in 2004 when the vehicle he was driving was struck by a drunk driver (doing at least 60 m.p.h.) as he was pulling into our driveway. Even though he was broadsided in the driver's door, he walked away without a scratch. God made it very clear to me that night that He didn't need my help to take care of "my" son, and that He was in control whether my child was a thousand miles away or in my front yard. I keep a picture of that pitiful, wrecked truck in my billfold to remind me of the lesson God taught me that night. And when I need my memory rebooted, as I did recently, I can pull out that picture and have a visible reminder of how our great God intervenes and works in the lives of His children.
"I will remember the deeds of the Lord; yes, I will remember your wonders of old. I will ponder all your work, and meditate on your mighty deeds. Your way, O God, is holy. What god is great like our God?" (Psalm 77: 11-13 ESV)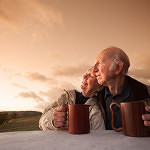 I am thankful beyond words that the One who saved my soul is so patient with me. He blesses me beyond measure, gives purpose to my life, and enables me to accomplish what I could never do on my own–no matter the number of my years or the number of my gray hairs. When my days are completed, He will carry me home to spend eternity with Him. And I'm just certain that there will be no gray hair or wrinkles in Heaven. Hallelujah!
"…even to your old age I am he, and to gray hairs I will carry you. I have made, and I will bear; I will carry and will save." (Isa. 46:4 ESV) 
Comments
comments