"Stop it!  Get out!"  Those were the words that I heard at about 6:15 on Easter morning.  When you are awaken from a pretty heavy sleep, those can be chilling first words to hear.  My wife was yelling in our living room and I wasn't sure who she was yelling at.  I jumped out of bed and ran into the living room expecting to have to put the smack down on someone.  However, there was no intruder.  I'm not sure, but I might have rather seen an intruder at that point.  My dog was puking all over our living room floor.  When I entered the room, I found my wife trying to get our dumb dog to go into our kitchen, so the clean-up would at least be tolerable.  The dog had other ideas.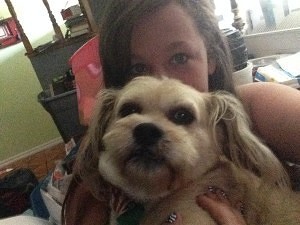 This wasn't our first Easter excitement.  Several years back, we woke up to a phone call from my sister-in-law.  My wife's grandmother who was living with our sister-in-law had gotten up in the middle of the night and drove off.  Mrs. Hattie was in her 90's and dealing with Alzheimer's at the time.  A middle of the night joy ride was not something you wanted to hear about.  She was found, but not until she had traveled a good distance through the curvy highways of Northwest Arkansas.
I don't know how your Easter started.  I know that it was probably not as joyous as you would like because they never are.  Getting the family dressed just right for the day and trying to snap that perfect Easter photo are rarely stress free activities.  In the more extreme cases, you may feel like someone broke into your house and stole your joy.  Easter by definition should be a joyous celebration.  We are celebrating Jesus' power over the grave and victory over death.  It is a time of renewal and hope for all of Christendom.  Without Jesus' resurrection, there is no faith.  Without Easter, there is no joy.  But still, they come…  The Joy Robbers.  They find their way into our lives and attempt to rip the joy out of Easter.  Like masked thieves with guns, the Joy Robbers come to destroy our Easter celebration.
It doesn't just happen on Easter though.  We wake up to find that we didn't wash something that we really needed.  Someone cuts us off as we drop off our kids.  We get to the office to find all the coffee is gone.  Our boss belittles us in front of our team.  You get home from work and realize that you forgot to stop by the store for the one thing that you needed to make supper.  And, the list goes on.  The Joy Robbers seem to be well connected and it feels like they are out to get us.
God's Word gives us exhortation.  The Apostle Paul says in Philippians 4:4-7; 10-13…
4 Rejoice in the Lord always; again I will say, rejoice. 5 Let your reasonableness be known to everyone. The Lord is at hand; 6 do not be anxious about anything, but in everything by prayer and supplication with thanksgiving let your requests be made known to God. 7 And the peace of God, which surpasses all understanding, will guard your hearts and your minds in Christ Jesus…. 10 I rejoiced in the Lord greatly that now at length you have revived your concern for me. You were indeed concerned for me, but you had no opportunity. 11 Not that I am speaking of being in need, for I have learned in whatever situation I am to be content. 12 I know how to be brought low, and I know how to abound. In any and every circumstance, I have learned the secret of facing plenty and hunger, abundance and need. 13 I can do all things through him who strengthens me. (ESV)
Paul faced good times and he faced bad times.  I'm sure that he had his battles with the Joy Robbers.  Through it all, he leaned on his Savior.  If we want to beat the Joy Robbers, that is what we need to do.  Let's lean on Jesus.
Comments
comments