"We will be closed on Sundays, so that our team members may honor their faith and families."  While many of us immediately connect this statement with Chick-Fil-A and the lack of awesome chicken on Sundays, we forget about the others that have made a similar choice.
In 2001, I needed a job so that I could continue the ministry of a mission church that I was working with.  I looked around at a variety of options and was a little confused on where to begin.  I was 29 years old and held two degrees, neither of which would make me a prime candidate to be hired.  In the months leading up my need for employment, I had taken up photography again.  Music and Photography were my life back in junior high, high school, and college.  It just depended on the day which one I was more interested in.  As I looked for a job, I remembered a camera shop in Springdale that I had loved as a high school student.  During my high school days, it was called the One Hour Photo Center.  Since that time, it has taken a name that better reflected its owner Stan Bedford.  When I went to interview at Bedford Camera & Video, I soon discovered that they were closed on Sundays.  This was perfect for me as a pastor.  I left praying that I would get the job.  It was just an hourly position that would barely meet my financial needs, but I knew that God would provide as I sought to honor Him.
God met my needs in a big way with my job at Bedford Camera & Video.  In a short time, I became the assistant manager of the Springdale store and then the manager.  In addition, Stan and I were able to establish a Chaplain's Program that gave me an opportunity to minister to over 100 families.  It was a fantastic time and I worked with some fantastic people.
Stan was one of a kind.  He was a focused business man, but that drive never pushed him to open on Sundays.  He made a choice even if it meant being closed on Christmas' Eve, one of the busiest days in the retail world.  It didn't matter.  He wasn't going to open on a Sunday.  That was the type of man that Stan was.  He wanted to honor God and families with his business.  He did that in large part by making Sundays a non-negotiable.  He knew that his team members needed rest and time with their families.  And, He also understood that being connected to a body of fellow believers was vital to the Christian life.
And let us be concerned about one another in order to promote love and good works, not staying away from worship meetings, as some habitually do, but encouraging each other, and all the more as you see the day drawing near. Hebrews 10:24-25
Stan has gone on to receive his eternal reward, but there are two things you can still count on.  Number one, Bedford Camera & Video won't be open on Sundays.  Number two, if you stop at a Chick-Fil-A, it might as well be posted on the door "No Chicken on Sundays."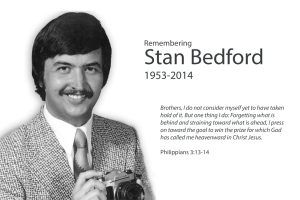 Comments
comments