In 1981, David Carson found himself at a crossroads.  He had been offered another promotion with the world's largest retailer that would inevitably lead to a role at the home office.  However, it would also mean yet another move for his family.  While it would seem to be a no-brainer, my Dad took the road less traveled.  He resigned from Wal-Mart and moved us back to Springdale, Arkansas where we lived with my grandparents briefly when he took a job at his father's radiator shop for $6 per hour.
Why would he give up a promising career with Wal-Mart where he knew the owner on a first name basis?  It comes down to one word… Family.  The longest that we had ever lived anywhere up to that point was 2 years.  Dad was good at his job, so they would send him in as a fixer.  He would go into a situation and put things in order.  Then, they would move us to the next spot.   I was about to turn 9 at the time and the idea of giving up my friends to move to Rolla, Missouri was not something that I wanted.  Dad made a decision that year.  Having his boys grow up in one spot with friends and family close was more important than any amount of money that the company could promise him.
I learned many things from Dad over the years.  He taught me the importance of a man's word.  He showed me the value of hard work.  And, he showed me what it means to love your wife.  But one of the greatest lessons that he ever taught me was when he chose to honor family more than himself.  He gave up money, power, and prestige for a humble life that would bring honor to God and a stability for his boys.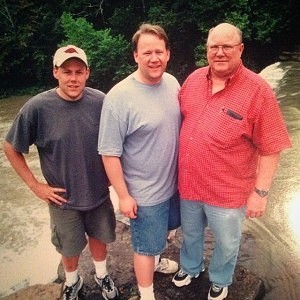 Our choices define us and those around us.  My Dad's choice to put family first captures the type of man that he was.  God loves to see us honor the family.  Before God established his chosen people, Israel, or called out the church to their mission, He established the family.  It is through the family that we continue as the human race.  It is through the family that our beliefs are shared and passed from one generation to the next.  It is through the family that God can be honored.
Mark 10:6-9 But from the beginning of creation God made them male and female. For this reason a man will leave his father and mother and be joined to his wife, and the two will become one flesh. So they are no longer two, but one flesh. Therefore what God has joined together, man must not separate." (HCSB)
Family is important to God, and therefore, should be important to us.  Make choices in your life that show your desire to honor God with your family.  Choose family ahead of money, power, and prestige.  Make family a priority in your life.
Comments
comments